May 31, 2023
Issue 3
No Mic Open Mic at Andy's Cabana
If you wander or peddle down Petronia St into the heart of Key West's Bahama Village on certain nights, you might stumble upon some of the sights and sounds or a whiff of the scents of Key West circa the 1970s. It's here you will find Andy's Cabana. A hidden musical gem reminiscent of Key West's funky and eclectic past.  Next to the little classic Key West conch style house that used to be the go-to place for fresh homemade Conch Fritters you will find a small stage, hidden under an old parachute draped from the overhanging trees. It's a place where a collection of local characters and traveling troubadours gather to collaborate on Key West's only open acoustic stage. While the main event, of course, is a musical jam session, the evening line-up is diverse, spontaneous, and realized by an ethos of "come as you are": here to have fun, be creative, and make some music.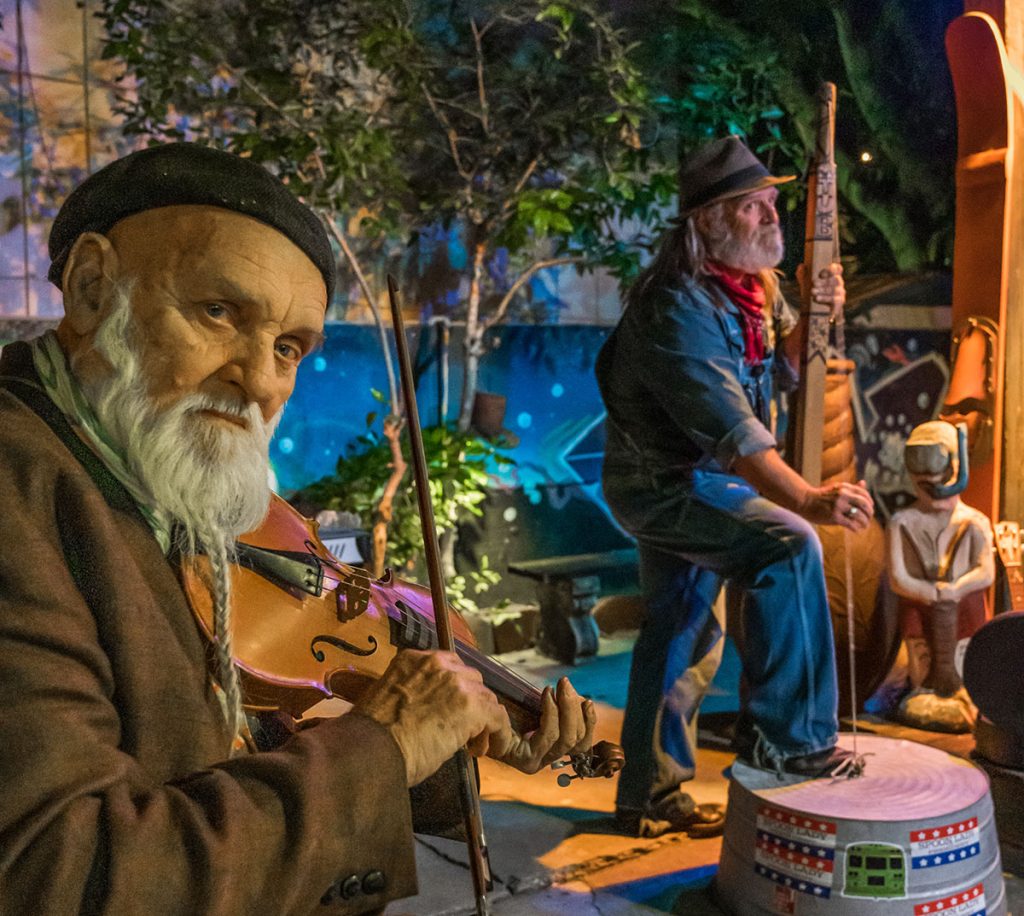 If you go to the Andy's Cabana website it will most likely say it's closed. You will never see an advertisement or anything official about what is happening there. On most days Andy's is just a funky overflow area for tourists waiting to get into Key West's iconic Blue Heaven Restaurant across the street. But if you tap into the coconut telegraph, you may hear chatter about  "Open Mic / No Mic Night on Thursday."
Open Mic at Andy's Cabana is one of those only-in-Key West type of scenes. And in fact it's an open mic with no microphone.  Singers must belt it out au natural.  They don't use a mic, because they don't want to upset the neighbors and so the night usually ends before any neighbors flip out from all the commotion, but usually just in time to head over to the Green Parrot for the late-night music set.
Hosted by the owners of Blue Heaven, this pop-up musical event was founded by long time Key West character David Wegman, a renowned artist, musician, sailor and puppeteer–the guy with the funky hat and braided beard riding around on his mail bike with a mini banjo over his shoulder.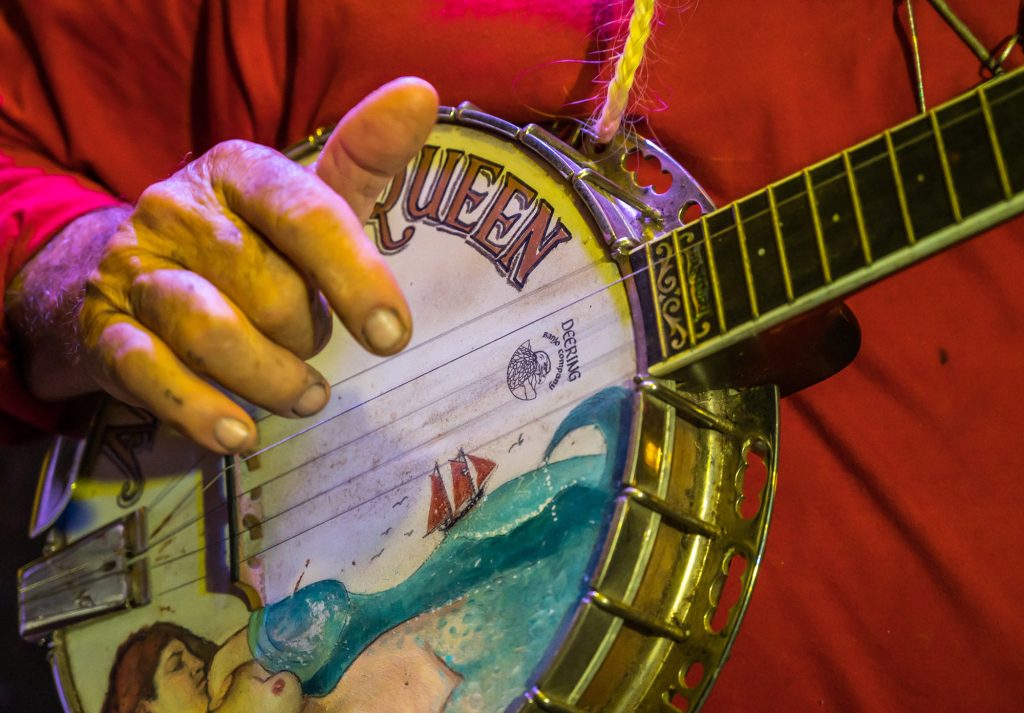 On any given Thursday, there could be just a few die-hard locals hanging, jamming away, alternatively the place might be packed, spilling out into the street. Bring or borrow an instrument, share your voice, a poem, a short story, or just sit back with a cocktail and relax and watch what unfolds on and around the stage.  You never know what might happen or what surprise guest might show up–was that really Kenny Chesney last week? One thing is for sure, you are guaranteed an eclectic Key West musical experience and occasional surprises from performers in the audience, like Michelle a sweet and petite local lady from Switzerland who strums the ukulele, or some folks from the back hills of Tennessee thumping a homemade beer bucket bass and banging spoons, or maybe a multiple Grammy Award winning fiddle player. 
The best nights I've had at the No Mic featured well known local musicians who, after a long 3 gig day, biked over from their last performance just to jam with friends and whomever else just showed-up from wherever else on the planet. 
These musicians don't come for a paycheck, as there is none to be had. They just come to play, entertain and be entertained.  While only a few blocks from Duval street, the scene here is miles away. So if you're expecting to hear some Trop Rock or the sounds of Margaritaville, you will be disappointed as the crowd will have none of that. The night might start out slow, but by the end there could be fifteen or more musicians jamming away on stage.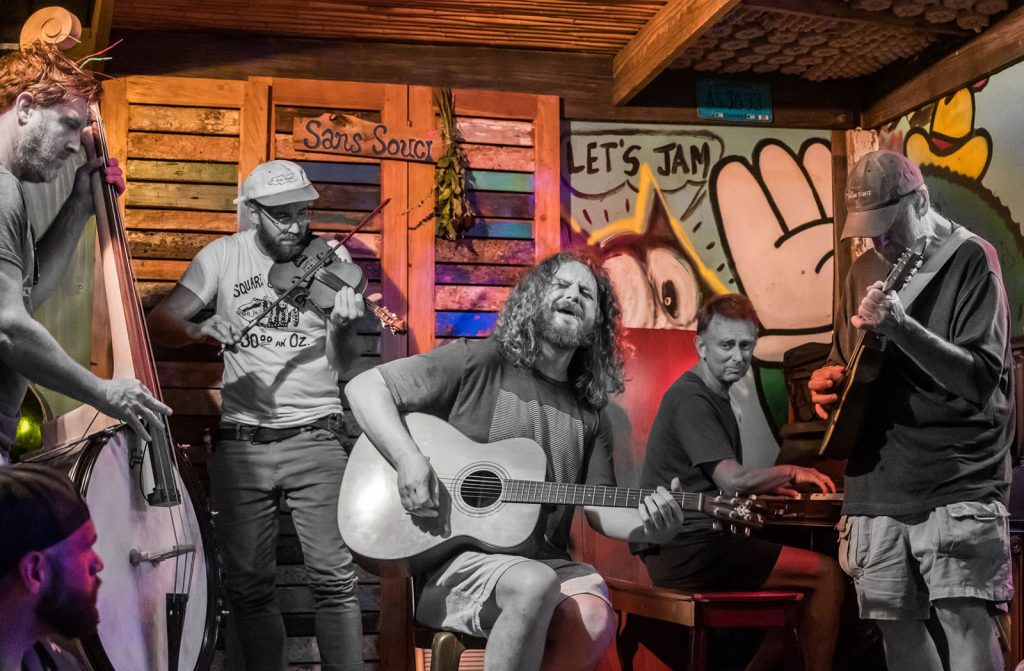 Beyond the music you might be treated to one of Wegman's ridiculous adult themed puppet shows or a series of poetry readings led by Tortuga Jack, Key West's own Poet Laureate, or maybe a short story reading about adventures on the high seas, or maybe someone will start rapping or some young hippie chicks will whirl about with lighted hula hoops while fire dancers spin their flaming toys.
Beyond the music and shenanigans, you are likely to meet some of the friendliest, most interesting, and eclectic locals and visitors happy to share their stories. See ya next Thursday at the No Mic Open Mic, maybe.
BTW –  If you see a guy wearing a distinctive fedora lurking in the shadows or darting about with a camera, wander over and introduce yourself as that would be me.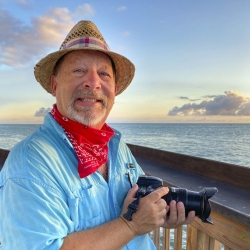 Latest posts by Bill Klipp
(see all)
View All Articles