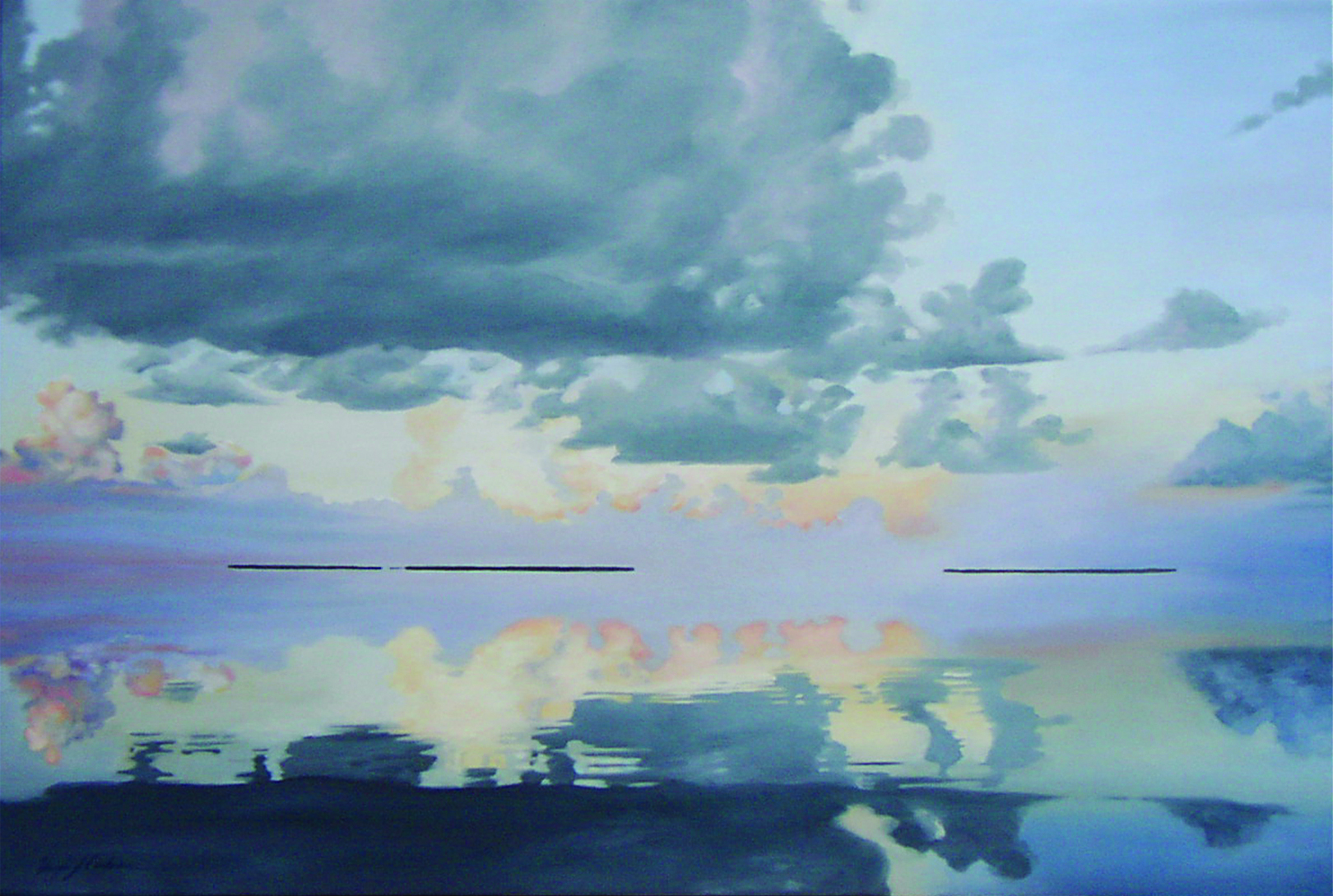 August 27, 2022
Art Walk
Vaughn Cochran, Saltwater Renaissance Man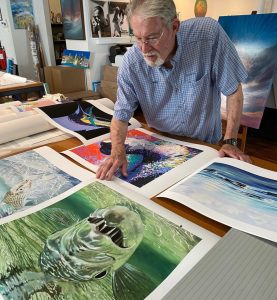 Vaughn Cochran is equally comfortable talking about movements in contemporary art as he is tying a fly on a line. He's done it all, and as time marches forward, he continues to add interests and projects to his list. World-class guide? Check. Successful business owner? Check. In fact, he likes to (with a dark twinkle to his tone) recount the epitaph of a famous tombstone, "I was just getting the hang of it!"
Originally from St. Augustine, Cochran is a product of the sunshine state in every sense. Raised in an historic city by artistic parents, he was predisposed to the creative lifestyle. Buoyed by that background and his own inclination toward painting, he followed the path to what he calls, "the best unknown art school in the United States," the University of South Florida. In 1972, he graduated with degrees in ceramics and painting, taking with him a wealth of knowledge gleaned from the early Pop Art greats with whom he studied. There followed a brief stint as an instructor, but life—the seventies, water, music, travel—was calling Cochran to the end of the road. 
One of Cochran's first acts in Key West came, as so many opportunities in the Keys do, as the result of a bar conversation. The Chart Room was the watering hole of choice, pulling-in day-drinkers from all walks of life. Cochran recalls the atmosphere of those hazy days in Key West, "You would go in at happy hour and see the sheriff, the state's attorney, shrimpers, and artists all drinking together—everyone in there just getting along." It was there, in a tiny hotel room with grey cinder-block walls converted into a bar, that he started playing music with Jimmy Buffett. It wasn't long before the group–including Greg "Fingers" Taylor–realized glimmers of success and the original Coral Reefer Band headed to New York City for their first show at Max's Kansas City. The band had stars in their eyes, and were basking in their newfound fame over breakfast the next morning at the hotel. And then the bill came. Between the three of them, they couldn't scrape together enough to cover it. Fortunately, Buffett's wife, Jane, saved the day–and the blossoming band's ego–by running across the street to return a hair dryer she'd just bought, raising enough cash to cover the breakfast tab.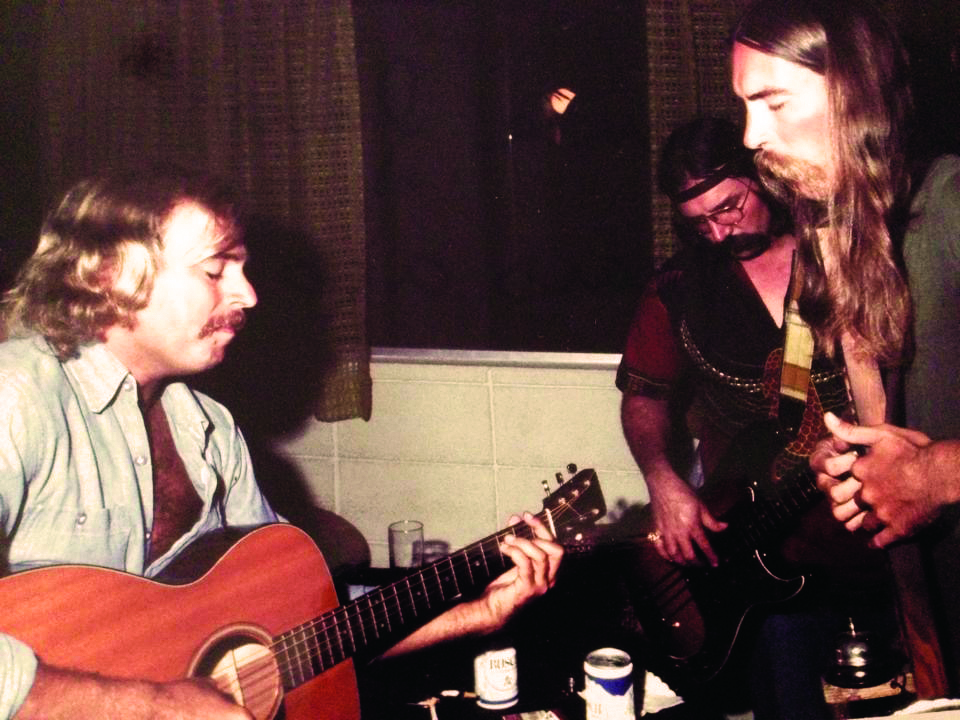 Once back in Key West, the band members kept the party rolling. "Every night everyone went out real late, and then the next morning we'd all swear 'never again'—until about sunset . . . at which point the party resumed.", recalls Cochran. Around that time, author Thomas McGuane, a friend of the band, invented a fictional club. McGuane was being interviewed by Rolling Stone when asked which clubs he liked to frequent in Key West. Not wanting to publicize the local secrets, he replied, "Club Mandible." Of course, there was no such place, but Cochran and other creative locals quickly adopted it as their free-floating social club. Cochran laughs as he recounts the stories. "It felt like Jimmy's famous lyric, 'If I don't die by Thursday, I'll be roaring Friday night. We just kinda rolled with it.'"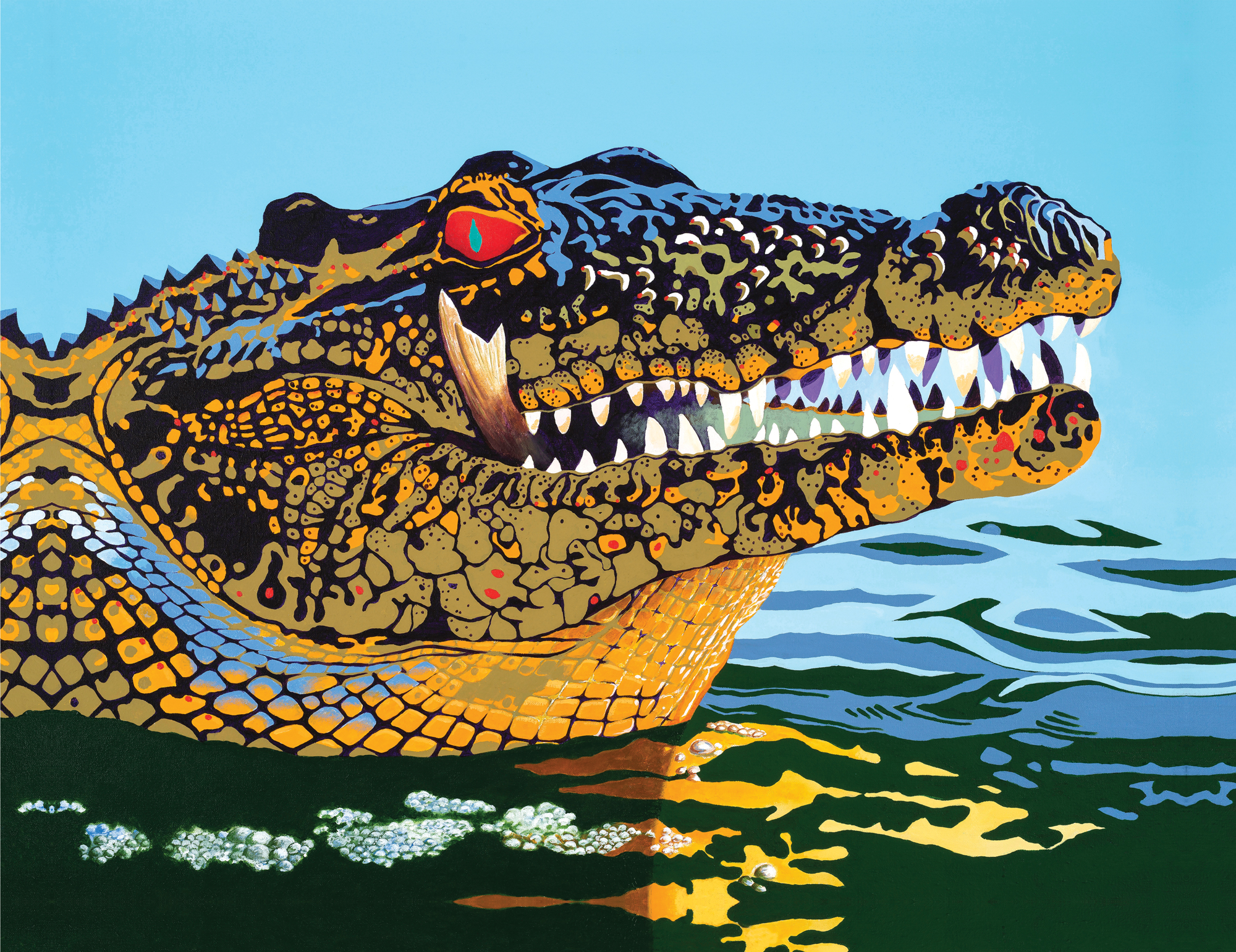 Life was about more than just music and mayhem for Cochran. He recalls those radiant days of Key West in the 1970s as a uniquely beautiful era. And yes, fun. Perhaps too much fun. "I'm not sure how I survived", says Cochran. Fortunately, he not only survived, but thrived. In fact, drifting to the southernmost rock transformed life for the young artist. "My whole concept of art work and what I was doing changed when I landed in Key West." He began his professional fishing career, finding artistic inspiration in the natural environment while guiding clients on saltwater fly-fishing expeditions. And so, with paint brushes and fishing rods, he laid a foundation that would propel him around the world, building a life he loved.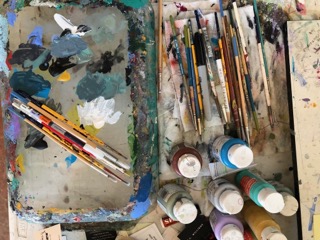 Key West is a tough act to follow, but Cochran found a second locale to love in Mexico's Yucatan Peninsula. He spent several years south of the border painting and guiding clients. It was there that his two great interests merged in a spectacular, simple moment of zen. "I was in Mexico when some guy asked me to paint a sailfish for him," says Cochran. Having studied contemporary art and raised in a family of artists, he hesitated. "I'd never thought of painting a fish, but I needed the money." He laughs as he tells it, knowing where that one little commission would end up taking him. 
Many years later Vaughn Cochran is now considered a leading innovator of contemporary marine and angling art. His work is held in private and corporate collections around the world and has garnered numerous awards. In 2002, he mounted a solo exhibition at the International Gamefish Association Fishing Hall of Fame, and was recently inducted as a Signature Member of the American Society of Marine Artists. Hopefully that guy in Mexico held on to that sailfish painting.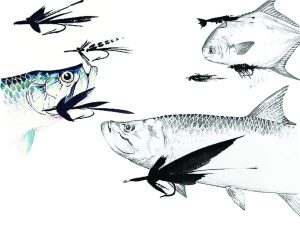 Through it all, Cochran retains a playful curiosity, exploring different styles and approaches, including one that would lead him into his next phase of life as an entrepreneur. "In college, I studied Sumi under a brilliant Japanese artist. I was thinking of that one day on Cudjoe Key, looking out over the water from my studio. I was painting flies and wanted to try the 'less is more' approach. I painted one in ink, then another, and another. I ran out of paper and started-in on grocery bags. I ended the day with 300 versions of this black fly, and chose my ten favorites." One of those little black ink paintings would ultimately turn into a restaurant, a lodge, and a lifestyle brand. Cochran's brainchild, the internationally recognized Blackfly Brand, encompasses Blackfly Lodge, a world-renowned sportfishing destination in the Bahamas, Blackfly Outfitters in Jacksonville and Blackfly Restaurant, an innovative dining spot in St. Augustine. 
Following the success of the brand, Cochran retired from guiding and eventually moved back to St. Augustine. The restaurant there wasn't originally something he planned, but he loves checking in and chatting with diners during the weekend dinner crush. Talking fishing and art with travelers passing through from all over the world keeps it interesting. And of course, his artistic practice persists. "I tend to work in series now, creating several pieces from a single point of inspiration. I have more projects than I have time to do." Fortunately, the restaurant has ample wall space. "People often ask if I have a gallery and I say 'yes, it just has a restaurant in the middle of it.'"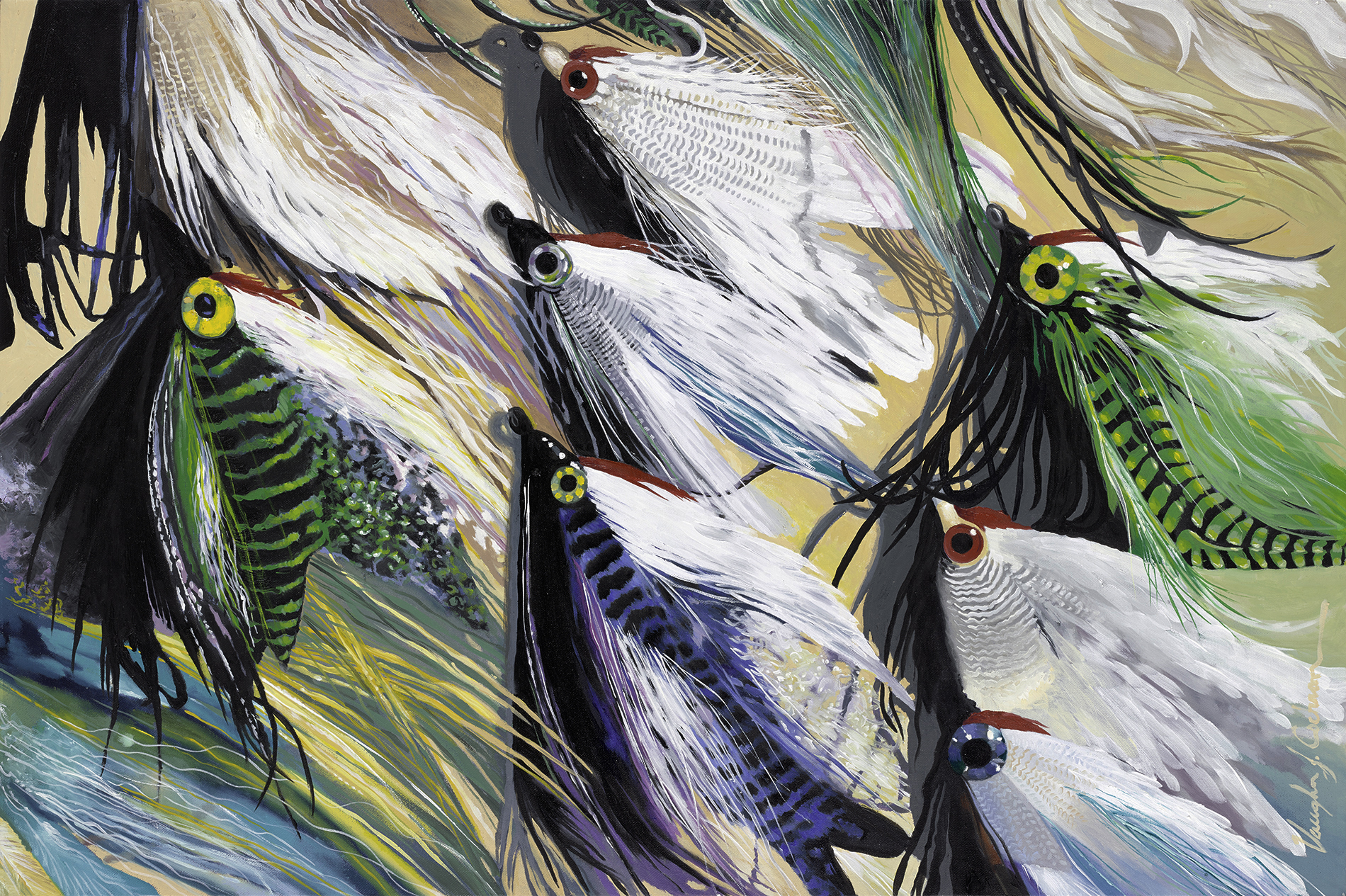 Of course, the last couple of years have presented challenges, first with Hurricane Dorie devastating the Bahamas, and then with Covid wreaking havoc on businesses. Ever the optimist though, Cochran looks to the bright side and counts his blessings. The hurricane, followed by the release of pressure on fishing during Covid, led to some measure of recovery for fish populations and for the Caribbean waters in general. Cochran has noticed. "We're honestly as busy as we would hope to be. The fishing is good." And for Cochran, if the fishing is good, life is fine indeed.
Latest posts by Erin Stover Sickmen
(see all)
View All Articles