Planning a Trip to Key West?
Let us know when you are coming to Key West and we will present the best options available.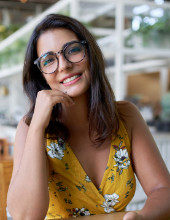 Your Local Concierge,
Lexi Roberts
The staff at Our Key West is exceptional and know the meaning of excellent customer service.
These Folks are Super Cool!
Their shop is dope.
We had such a great time on the Havana Day Trip! This is a must do on everyone's bucket list.
Explore Paradise
More Fun Things to do in Key West
History & Culture
The history and culture of Key West can be found everywhere. As you stroll down Whitehead Street you will pass the Hemingway and the Lighthouse Museum, the Custom House, the Shipwreck Museum – there is so much to learn about Key West's history and the culture that makes this island appealing for everyone.
African Slave Cemetery (1000 Atlantic Blvd.) Located on Higgs Beach, this burial site memorializes 295 Africans who died on the shores of Key West after being rescued by the US Navy in 1860 and diverted the ships to Key West. The grave site is marked by pillars that are carved with symbols of West African proverbs.
Audubon House & Tropical Gardens (205 Whitehead St.)
The beautiful garden offers visitors a lush 1-acre view of orchids, bromeliads, and other tropical foliage, an herb garden and 1840-style nursery. The house, which is a restored three level Captains home, has many antique furnishings purchased from estate sales and auctions in Europe. The gallery features a unique collection of Audubon art and prints including the limited edition of Birds of the Florida Keys.
East Martello Museum (3501 South Roosevelt Blvd.) Located across from Smathers Beach by the Key West airport, this Civil War watch tower was constructed in 1862 by the US Army to defend against a possible Confederate attack by sea. Visitors can explore the preserved collection of Civil War relics, learn about the early days of wrecking and cigar making and view a collection of sculptures by artist Stanley Papio. And do not miss meeting the 'ghosts of East Martello,' and see the famous Robert the Doll.
Ernest Hemingway Home & Museum (907 Whitehead Street) Visit the home of Ernest Hemingway, who lived and wrote in Key West for more than a decade. Hemingway loved the water off the Florida Keys and traveled and lived for many years of his life between Key West and Cuba (only 90 miles away). Do not miss taking a tour of his Key West home and learn about the most prolific period of his Nobel Prize writing career. Visitors will also see the famous 6 toes cats that freely roam the grounds.
Historic Seaport Harbor Walk (William St. to Greene St.) Known as the Key West Bight, you can walk along the meandering wooden walkway along the harbor that winds from above the foot of William Street to Greene Street. This area was a working fishing harbor until about 20 years ago and this was where the shrimp boats docked and the fishermen un-loaded their catch. Now you will pass marinas, an eclectic array of island shops, restaurants and unique bars. This is the area where you will likely leave for a sunset cruise, snorkel trip, or dive boat.
Key West Aids Memorial (1000 Atlantic Blvd.) Located on the White Street Pier, the Memorial is a tribute to the people who have died of aids. There are over a thousand names inscribed into the monuments at the walkway approaching the White Street Pier that overlooks the Atlantic Ocean.
Key West Cemetery (701 Pauline St.) The Key West Cemetery is a 19-acre cemetery at the foot of Solares Hill and it is estimated that as many as 100,000 people are buried there. It is well worth a stroll through this historic landmark and check out the interesting grave markers and the U.S.S. Maine Memorial Site.
Key West Lighthouse & Keepers Quarters Museum (938 Whitehead St.) The current lighthouse opened in 1848 with a woman as its keeper (nearly unheard of in the 19th century). In the following years, the lighthouse underwent several upgrades and added the Keeper's Quarters and finally the electrification of the light. Now it stands as a reminder of Key West's maritime heritage. Visitors can walk up the 88 steps to the top of the light and explore the photos and memories of the lighthouse Keepers and their families.
Tennessee Williams Museum (513 Truman Ave.) Tennessee Williams, one of America's foremost playwrights, called the island of Key West 'home' for over thirty years (1941 until his death in 1983). In 1950 he bought the house at 1431 Duncan Street that was his home for 34 years. Visitors to our city and locals are invited to tour this educational and historic exhibit. They can enjoy and learn about Williams' literary accomplishments and life in Key West through an extensive collection of photographs, first edition plays and books, rare newspaper and magazine articles, videos, a typewriter used by the author while writing in Key West and other artifacts on display.
The Custom House (281 Front St.) this four-story incredible work of architecture, built in 1891, originally served as Key West's custom office, postal service, and court house. It was built to keep up with the increasing population when maritime wrecking made Key West the richest city, per capita, in the U.S.A. Today it stands proudly as a museum and the home of the Key West Art and Historical Society.
The Harry S. Truman Little White House (111 Front St.) The Little White House is the State of Florida's only presidential site. It was originally constructed in 1890 as naval officers housing and has had several famous visitors including Thomas Edison and several Presidents. And it was the winter White House of Harry Truman who spent 175 days of his presidency here from 1946 through 1952. Truman faced the rebuilding of Europe, the Palestine question, issues of Civil Rights and our response to the Cold War. Visitors can enjoy a guided tour and will see original furniture, photos and memorabilia from the Truman period.
The Key West Shipwreck Museum (1 Whitehead St.) This museum, which is a recreation of a 19th century warehouse, combines actors, films and actual artifacts to tell the story of 400 years of shipwreck salvage in the Florida Keys.
The Oldest House Museum (322 Duval St.) Built in 1829, the oldest house in Key West features family portraits and original furnishings, as well as other period pieces, ship models, and documents telling the story of old Key West. In the rear of the house is a spacious, peaceful garden, where benches invite you to sit and reflect. There, you will see the only surviving Cook House in South Florida.
Shopping
Key West offers an eclectic variety of shopping options and most are locally owned. You will find boutique shops throughout Old Town Key West that sells everything from clothing to art, pottery, jewelry, gifts and Key West memorabilia. OKW's Galleria is a great place to start to find unique Cuban art and other gifts.
Besame Mucho (315 Petronia St.) located in Bahama Village, this eclectic boutique is wonderfully curated and includes bath & body products, candles and houseware, jewelry and unique gifts.
Commotion (800 Caroline St.) – located in the Key West waterfront area, this boutique offers casually elegant women's clothing & jewelry at the Red Doors historical building.
Grace (600 Frances St.) located in old town Key West, this elegant boutique is beautifully curated and sells jewelry (Phillipe Spencer), scarves (cashmere), home decor, accessories and apparel.
Green Pineapple (1130 Duval St.) This lifestyle boutique offers Airy shop boho-chic apparel for relaxing & yoga practice, handmade jewelry, plus accessories & gifts.
Hands On (1206 Duval St.) – Boutique store selling handmade art-to-wear clothing collections, original accessories, and handcrafted jewelry.
Kino Sandles (107 Fitzpatrick St.)- Kino Sandals was founded in 1966 and offers over 17 different styles using natural leather uppers and natural rubber soles. They are all hand cut, assembled, and glued in their traditional sandal factory located in old town Key West.
Local Color (276 Margaret St.) – Located in the Key West Bight, this store sells tropical inspired clothing & accessories and designer jewelry.
Ocean Key Boutique (2 Duval St.) – This chic boutique located within Ocean Key House Hotel sells decor from around the tropics and apparel to fit for styles from beach to boat.
Our Key West Galleria (613 Simonton St.) – Check out the unique selection of gifts, local art and hand crafts at this charming old town gallery and shop.
Mayanjali (1114 White St.) – located in the Shakti Yoga Studio this cafe and boutique is a serene place to shop for wellness products and accessories, locally made jewelry and yoga wear.
The Angling Company (333 Simonton St.) – this store sells everything you need for fishing the backcountry and apparel for your next outdoor adventure with top-end brands like Under Armour, Columbia, and Simms.
Tucker's Provisions (611 Duval St.) – Part general, part dry goods store, Tucker's Provisions provides gifts and apparel for kids and adults for fishing outings, beach days and nights out on the town.
Vignette (526 Southard St.) – a locally owned Key West boutique for women selling beautiful clothing and accessories.
Wanderlust (310 Petronia St.) – Located in Bahama Village, this boutique & gallery sells local art, handcrafted jewelry & relaxed, bohemian clothing.
Galleries
Art galleries are scattered throughout Key West and Stock Island and they are a great way to familiarize yourself with local artists. The Studios of Key West has a gallery and rotating exhibitions at their space on Eaton Street. There are also several monthly art walks such as Walk on White (held the third Thursday each month). And many local artists such as David Wegman and Helen Harrison encourage visitors to stop by their studios to see their latest works of art.
Live Music
The local music scene in Key West with the open air bars and restaurants bring music of all kinds to this tiny island. The iconic Green Parrot and Sloppy Joe's are just a few of the local bars that regularly host talented musicians. Local musicians like Zach Seemiller, Tony Baltimore and Larry Baeder can be found at the local music venues like Willie T's, Sunset Tiki Bar & Grill and Hog's Breath. Larger venues like the Key West Theater, the Key West Amphitheater and Sunset Green Events Lawn host top name acts including Wille Nelson, Avett Brothers, Grace Potter and more.
Stage & Literature
Key West has 5 live theaters, wonderfully curated small bookstores, and many other venues where you can experience unique theater, art and music.
Theaters:
Red Barn
Waterfront Playhouse
Key West Theater
Tennessee Williams
Fringe Theater
Literature:
Key West Literary Festival
Bookstores:
Books & Books
Key West Island Bookstore
Comedy Show:
Comedy Key West at the Bottle Cap
Bars & Clubs
Key West has an abundance of bars and clubs with a high concentration on Duval Street but even off the beaten path you can find dive bars with great live music and watch the sunset from waterfront bars.
Great Food
Key West is known for its wide variety of eating options ranging from high-end white tablecloth restaurants to open air picnic tables serving up everything from fresh caught seafood to Key Lime pies and more.
Golf, Tennis, Swimming & More
Key West has two public parks with tennis courts and one park with pickleball courts. The Bayview Tennis Courts have a tennis pro that offers private lessons or it is easy to get a pick up game. The Key West Golf Club, located a few miles from downtown, is an 18-hole Rees Jones Championship course and open to the public. With water all around you, there are lots of options for swimming in the ocean however you can also swim laps at the MLK Community Center Pool with dedicated lap swimming from 9-11 am daily.
Tennis/Pickelball Courts:
Higgs Beach Park (1000 Atlantic Blvd) – 3 Tennis Courts and 6 Pickleball Courts located near Higgs Beach (courts are not lighted).
Bayview Tennis Courts (1320 Truman Ave) – 5 lighted hard courts available on a first come first serve basis – it is easy to pick up a game.
Island City Tennis (1320 Truman Ave) – private or group tennis instruction available at Bayview Park Tennis Courts. Call: 305-294-1346
Golf Courses:
Key West Golf Club (6450 College Rd) – 18-hole Championship Course.
Swimming Pool:
MLK Community Swimming Pool (300 Catherine Street) – Community swimming pool open daily from 9 am-5:45 pm. Lap swimming from 9-11 and open swim from 11 am – 5:45 pm.
Spa, Health & Wellness
Key West is the perfect place to indulge in unique spa treatments like the Vibrational Sound Healing Massage and rejuvenating hydration therapy. You will find many options with a focus on health and wellness including yoga, massage, spa treatments, hydration therapy, acupuncture, wellness cafes and much more.
Spa & Wellness:
Bodhi Spa & Wellness (3845 Seaside Drive) – a full-service spa offering massage, facial, hair, and nail treatments.
Hydration Therapy:
IVs in the Keys (531 Whitehead St) – a wellness spa offering hydration, medication and vitamins through IV.
Yoga:
Shakti Yoga Studio
Key West Yoga Studio
Green Pineapple Yoga
About Us
Local since 1974, we facilitate authentic and compelling guest experiences emphasizing the natural world, art, music, food, history, and local characters. We provide premium concierge services, and serve as market-maker for a select pre-screened portfolio of the island's best guest activity providers. We have a commitment to quality and manage a full-service local concierge call center providing personal guest support from 8am to 8pm every day.
Learn More