April 15, 2023
Gonzo
A Gonzo Childhood at Louie's Backyard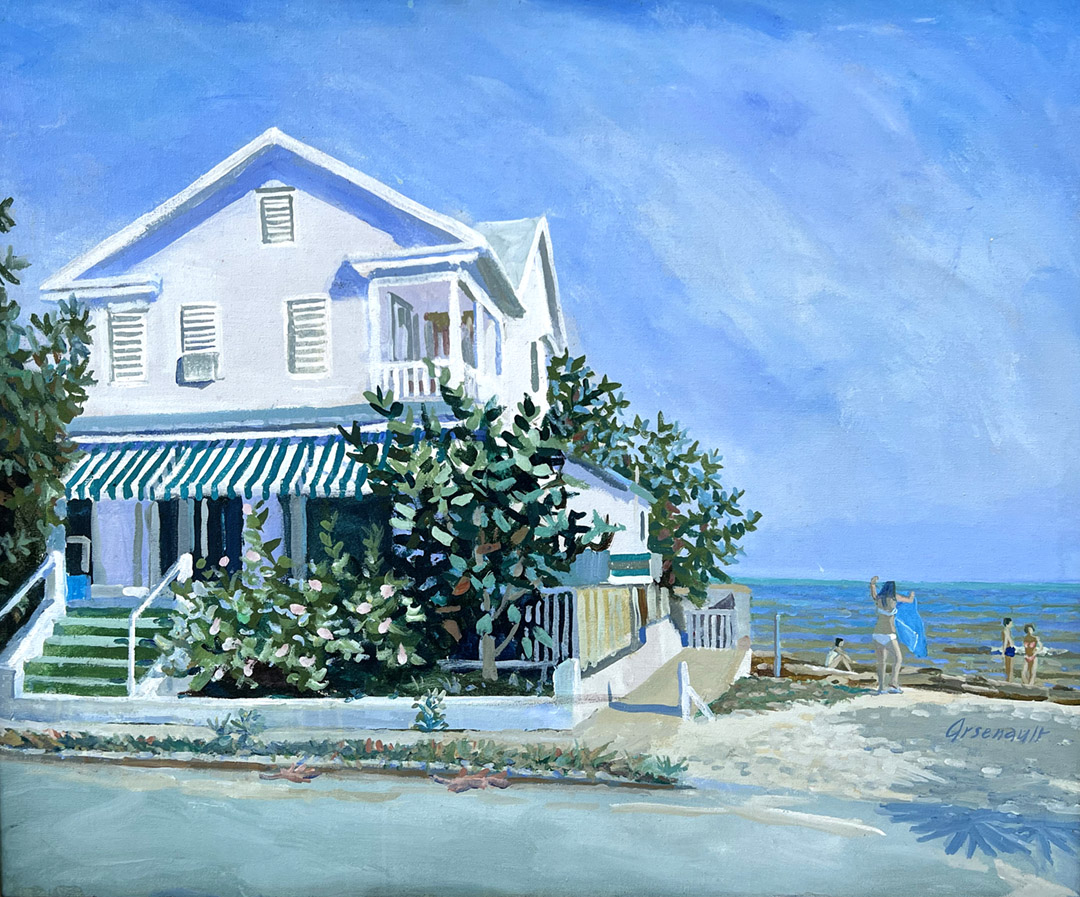 Louie's Backyard is the best lunch spot on the island – the dinner menu is also exquisite. The atmosphere is quintessential Key West: on the water, in the lee, under a tropical canopy, with gorgeous sunsets. But Louie's is much more than a restaurant.  This place is a center of gravity, a cultural highlight of the 20th century and an emblem of the halcyon days of Key West in the 1970's and early 80's, a golden age of live and let live, a time when gentlemen pirates held court, when hippies were a relevant mode and local politics was latin flavored dixiecrat. This is the era upon which the current Key West brand has built its reputation.
Born on the Beach
Louie's was always a kind of home base for me and our gang of kids growing up in Key West. We landed on the beach as newborns, and by the time we were toddlers, we thought we owned the place.  But we didn't, Walter Perry did, and Vic Latham tried to manage the chaos.  My mom worked there making salads next to Trucker Mike.  Jed's dad Phil – who would later buy Louie's – worked there as well.  Cory's dad, Chris Robinson, would become Louie's iconic bartender and storyteller.  Cory lived next door with his mom and dad in the downstairs beach front apartment.  Jimmy Buffett lived upstairs, along with his menagerie of peripatetic friends, including the gonzo journalist, Hunter S. Thompson.  The characters on this beach were the role models that informed the foundation of our budding values and guiding principles. 
We were the Gonzo Kids (all boys) . . . a band of brothers, raised on the beach by a tribe of non-conformists, a collection of shady gentlemen pirates, scammers, writers, musicians and oddball artists.
Hemingway was our ultimate idol, as he was idolized by most men in Key West in the 1970's, including the outdoor writers Jim Harrison and Tom McGuane who followed in Papa's sport fishing and big game footsteps. These influencers of the period were regular company with our parents at Louie's and the Chart Room bar.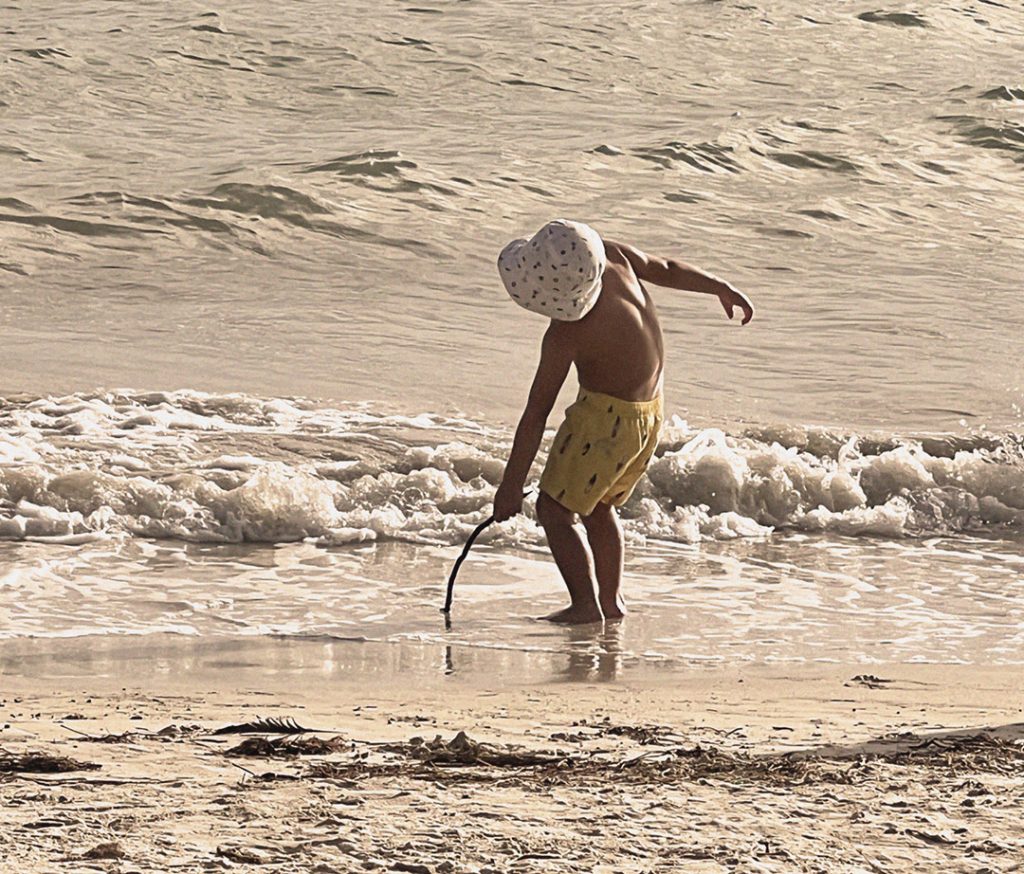 As young boys our games were Army, Capture the Flag, and Smear the Queer (a shameful label, in retrospect).  We were a tough gang of five-year-olds on the kinderstrand, mostly raising ourselves with painful trial and error within the parentally sanctioned zone of play between the Casa Marina Pier and the Sands Pier – though we would often pass on through to the seawall at Simonton Street, always testing and expanding our boundaries.
The water in this section of the south side of the island was shallow and clear, and often very warm. There was a fine sand beach from Simonton St. to Louie's Backyard, but behind Louie's was an aging concrete seawall with no beach, just jagged rock and broken concrete. The duplex house next door, where Cory's family lived below Jimmy and Hunter, sometimes sported a private white sand beach when the wind and tide conspired for good fortune.  And so this beach was Cory Robinson's beach.  It's where he lived, and where our gang would hang while our parents were next door imbibing at the backyard bar behind Louie's.
On the other side of Louie's – just past Dog Beach – was the Sands Beach Club, which hosted a lively scene during the day. Locals would bring their boats around to anchor in the waist deep water and wade in for drinks.  While the Sands beach was loaded with bikini clad sun worshippers, the backyard bar at Louie's was in tree shaded canopy, and offered a small green and white awning to serve as shelter from sun and rain for the bartender and a half-dozen patrons.  This was a bar of local and visiting personalities. This is where our parents spent much of their time working and playing when not on the other end of the island cooling-off at the Chart Room.
"Get off the fucking beach or I'll slit your throats," Hunter would yell into his duct-taped bull horn, as we scurried through the yard and down to the beach. Our games of Capture the Flag would often rouse HST from a recovering slumber.  Cory was probably squelching loud from near the top of a coconut palm, through the open window, arms length from Hunter's sleeping skull.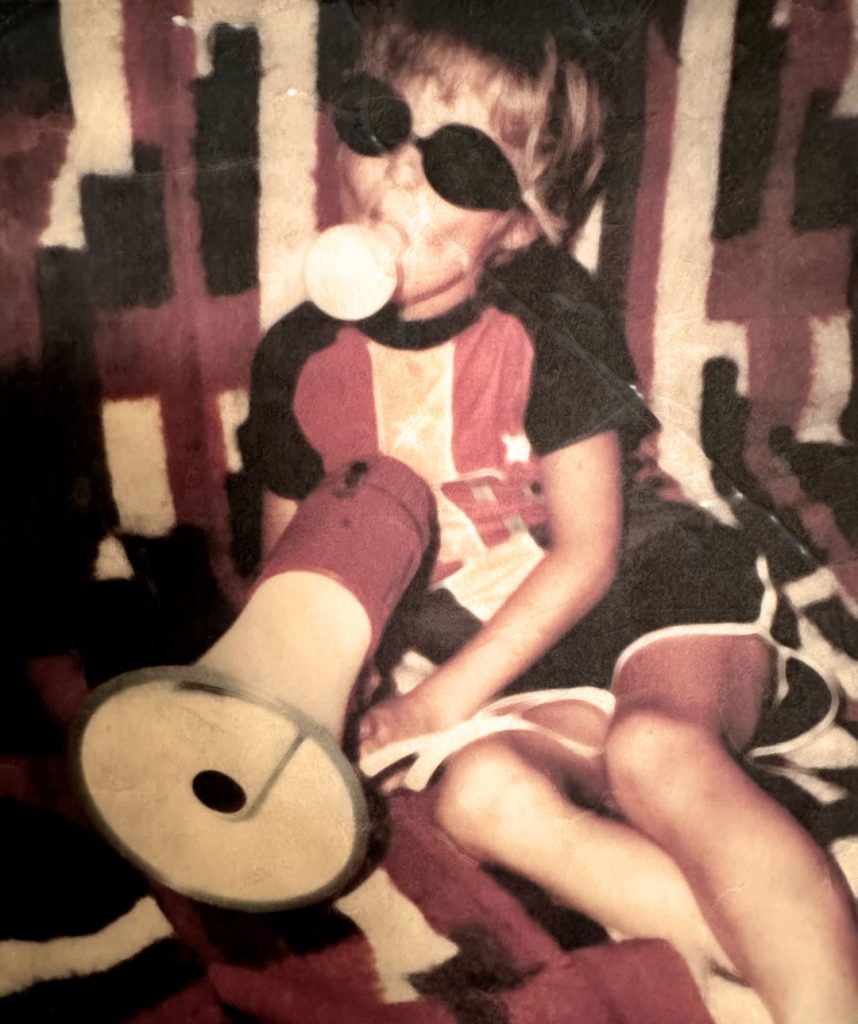 Tree climbing was our first pursuit of courage and fairly extreme risk taking.  As toddlers it was big to climb high into a canopy and mock your friends and parents, with only the most determined dad making the effort to climb the tree and retrieve his insolent boy, while the bar's patrons smiled and consumed the afternoon entertainment. We were hellions at an early age, following in our role-models' footsteps, always eager to entertain our parents' friends, many of whom were entertainers or otherwise attention seeking personalities. But Cory's dad, Chris, was the home team's prime character and storyteller.
Bar Stories
Chris Robinson hailed from St. Augustine, and had initially been the cistern bartender below deck at Louie's. He was a striking figure at six foot three with a booming voice, handlebar mustache and hippy hair down to his waist.  Chris was an inventive ladies man, sported short shorts, and secured only half the buttons on his shirt.  He was always up for a safety check on beach patrol – code for let's walk down to Dog Beach and smoke a joint – and Chris was known for in-depth jokes and hijinks, including his regular – though spontaneous – close-quarter fire balls of Bacardi 151, terrifying unsuspecting guests and staff.  Phil Tenney was a waiter at the time, and recalls Hunter's excited admiration for Chris and his antics.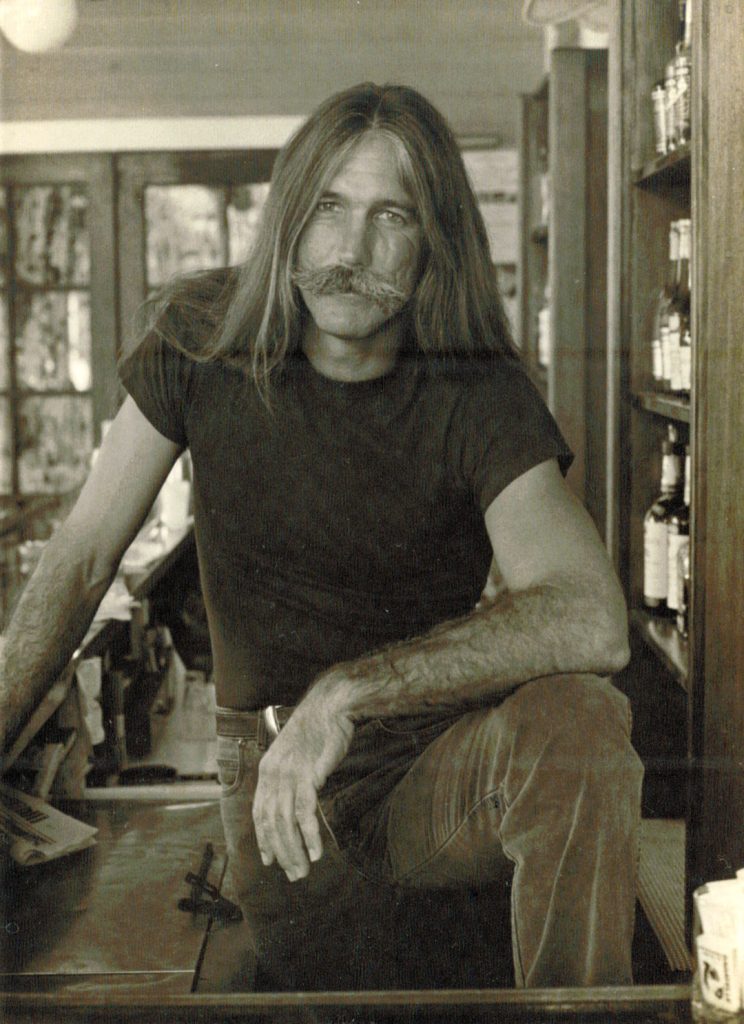 Hunter's Key West life was initially tethered to the Louie's scene, but he soon sought to expand his local knowledge and borrowed Buffett's skiff to learn the shallow water of the Keys backcountry.  After a few day runs on the boat, Hunter decided to place an ad in the newspaper offering night time adventure charters: fast boats at night; explore Key West's dark underbelly. It wasn't long before Phil was awakened by a 2am phone call from the Coast Guard announcing that one Hunter S. Thompson was in distress on a vessel 200 yards south of the airport, declaring Phil his emergency contact.  Phil told the Coast Guard to relay to Hunter that the water in that area is less than five feet deep, and that he should jump overboard and walk the vessel to shore. This would not be the last time Hunter called Phil in a state of panic. These stories would evolve and carry over the coming decades.
Business Transition
According to legend, a tipping point of aggregated unpaid bar tabs and diners on credit forced Louie's Backyard to close the bar and restaurant in 1981.  But this was great for our beach gang of kids, as Cory and his family moved out of the house next door and into Louie's itself!  Louie's was now Cory's house and the beach remained ours.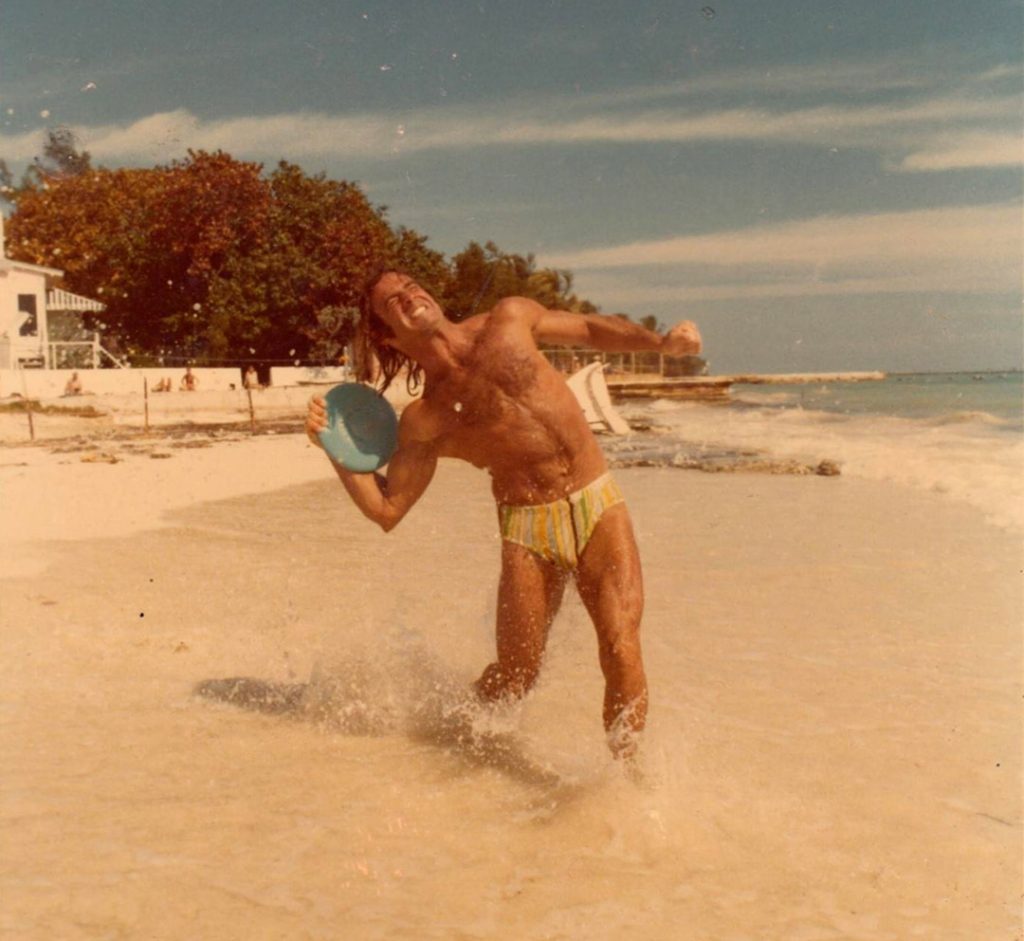 Our home base beach scene was hot: scores of half-nude women glistening with mineral oil, guys smoking reefer playing bongos while listening to Disco Bob on the radio. The full assortment of Key West characters called our beach home.  Some would hang in the sun, others would sip their drinks in the shade.  Frisby Dave and Lloyd would sprint through the wet sand to catch a wayward disc. Tall Allen and Laid Back Lenny were skimming in and out on their windsurfers, and there were kids of all ages free ranging the littoral zone. This was the budding foundation of Key West's One Human Family ethos.
It's important to pause and note that during this period, I never heard a single adult utter the phrase "work." Many Key Westers at the time worked, but no one ever talked about work, and work was not a priority or life focus.  The beach, getting in the water, planning the next party, getting laid . . . these seemed to be the primal priorities of the period.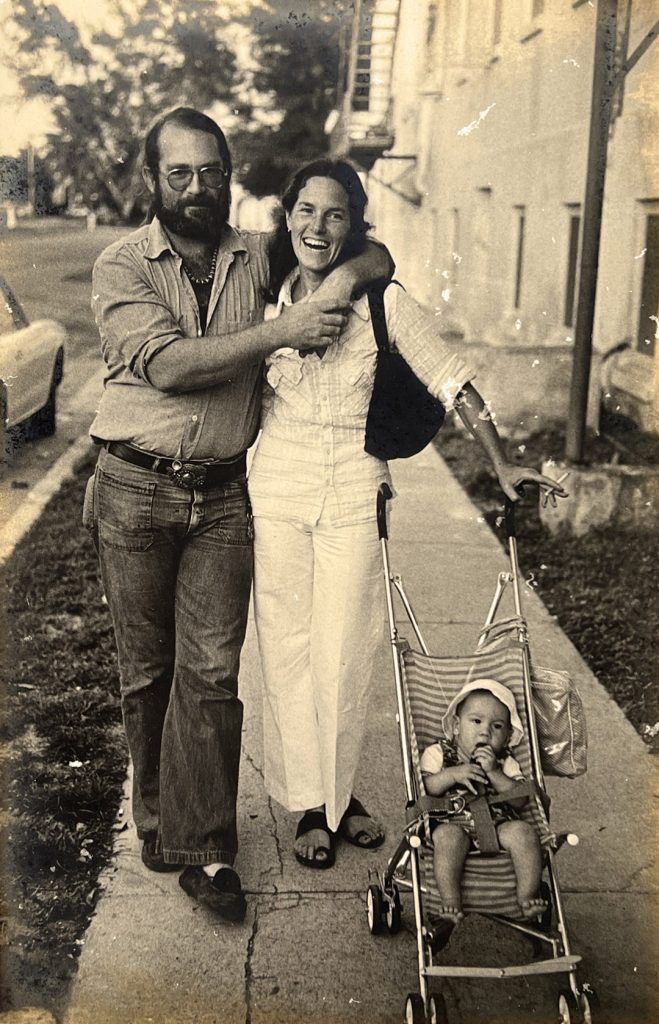 But it was time to put Louie's Backyard back to work, and In 1983 Phil and Pat Tenney (Jed's parents) became majority owners of Louie's with partner Proal Perry, who brought in the brilliant chef, Norman Van Aiken to relaunch the restaurant.  Pat ran the business, Norman ran the kitchen, and Phil maintained the building and built the Afterdeck Bar.
The Afterdeck
For many the Afterdeck is their planned first cocktail when they arrive on the island, for others it's a daily routine. The canopied waterfront bar is the starting point of many Key West stories and their derivations. There were three distinct bar scenes: the mid-day beach scene, the happy hour scene, and the after dinner boogie till the sun comes up scene.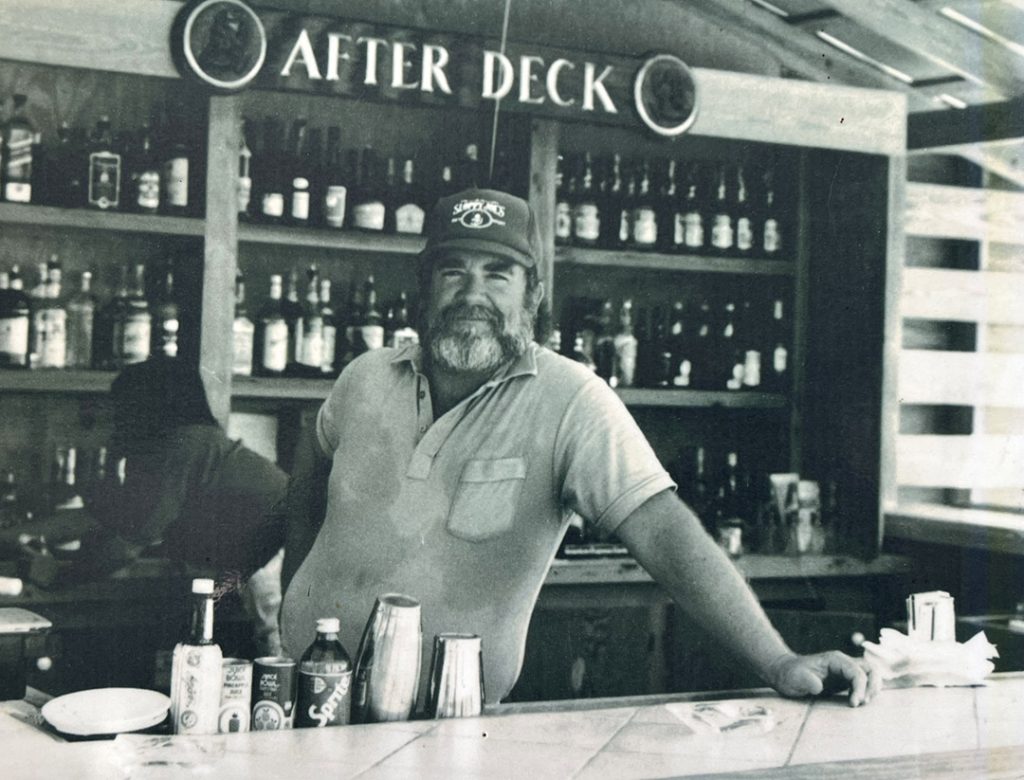 As kids we would breeze through the bar at all hours, mingling with the guests, copping Shirley Temples with extra marachinos, then heading back down to the beach or back on to our small skiffs at loose anchor in the clear waist deep water. But even as grade-schoolers, we often hung near the bar, listening to the characters tell stories, learning much from the loose lips of shared experiences.  We learned about fishing, fighting, fucking, running boats, running businesses, scams, big deals, small deals.  We were first in the know when a new book or album was in the works, or film production was coming to town. For the most part, these bar patrons were not into kids, but they were intrigued by the gonzo kids that grew-up on the beach, they engaged us in conversation and occasionally sought our feedback and opinions.
Halley's Comet was an especially festive time on the Afterdeck. Patrons brought their telescopes down to the party and the crowd hushed and whispered in awe, everyone contemplating their place in time and space, and appreciating the fraternal opportunity to commune on a beautiful speck in the sea, watching and contemplating this majestic celestial phenomenon.  Buffett rented Ballast Key for a week and purchased an expensive high powered telescope to view the comet.  He brought his daughter, Savannah, down for the experience and our family spent a few nights out on the island celebrating.
But the best Halley's Comet party was up at Camp Cudjoe, Chris Robinson's bayfront home up the keys in a mostly empty neighborhood with very little ambient light.  It was an epic party: loads of fresh lobster on the grill, the adults got into the psychedelics, and eventually the kids had the run of the place, including control of the old oxidized pair of binoculars that were the only source of magnification to view the comet.
The Employee Parties
By the fifth grade, the gonzo kids were recruited to bartend the annual Louie's employee parties. There was a winter holiday late night party upstairs in the cafe, and there was a summertime all day bathing suit rager centered around the Afterdeck and sprawling out onto the beach and up the back decks into the dining room, where huge trays of fresh fruit, lobster salad, beef tenderloin sandwiches, conch fritters, fresh fish dip, guacamole, and a dozen rare cheeses were accompanied by an endless supply of gourmet chips, crackers and fresh baguettes. The summer party started at noon and carried on till about midnight.  There was no RSVP, but you had to know someone to attend, and a few hundred friends would flow through during the annual event.
Travis, Cory, Jed and I were the house bartenders, taking turns restocking beer and running ice.  If one of us didn't know how to make a specific drink, another did, and if not, we were not shy to ask another patron how to make the drink or simply tell the person ordering the esoteric concoction, "sorry pal, we don't make that drink here."
We placed two large stainless steel wine buckets on each end of the bar for tip jars, and we earned enormous tips. We were a spectacle.  We egged-on the crowd, shouting nonsensical exclamations when receiving or bargaining for a large gratuity. "Domingo!" we would yell out, "Fish-On!" and the inebriated adults would cheer us on, four and five deep at the bar, a hundred local hospitality workers sweating in a ring of drunkenness around the afterdeck bar, while the four fifth graders fueled their fire with alcohol and managed chaos. It was exhilarating, and lucrative, and we were all very proud.
What about the Drugs?
Yes, there were drugs.  My dad was a marijuana smuggler.  All of our Dad's smoked pot, drank liquor, and took a bump from time-to-time to keep the party rolling.  No adult ever encouraged any kids to drink or partake of anything more than a creme brulee, yet any dissuasion was often laden with the sarcasm of "Kids . . . do as I say, not as I do," but of course we did anyway.
Growing Older But Not Up
As we entered our teens, the employee party bartending gig took on a slightly more professional atmosphere, and we started to join the fun, sipping rum and coke on the side, and partaking in the party favors placed in our tip buckets.  But life in Key West was changing.  Our island home had been discovered, the developers had taken root, and it was becoming more difficult for the freedom seekers and creative types to maintain their lifestyles as the cost of housing began to escalate.
The Sands Beach club was demolished to make room for a new boutique hotel, and that part of the beach was now private. This was the end of our free-roaming beach scene, but it was very good for Louie's business. People with money wanted privacy and good food, and they clamored to catch a piece of the old Key West vibe at Louie's, hoping they might even run into Buffett or Clapton or a southern governor catching a sunset cocktail on the Afterdeck.
The Gonzo Kids were nearing adulthood, thinking about college, and having to work. Some of us dabbled in dope dealing, others became busboys at Louie's.  I took a summer job managing the beach chairs and towel service at the new boutique hotel next door, working for my buddy, Barefoot Billy, who scored the watersports contract. We were embarking on our own individual journeys, but our childhood on the beach continued to inform our guiding principles.
The Spirit of Key West & Principles of the Gentlemen Pirates
Every man is the sum total of his reactions to experience . . . rather than make the individual conform to the goal… Beware of looking for goals: look for a way of life. Decide how you want to live and then see what you can do to make a living WITHIN that way of life. But you say, "I don't know where to look"  – Hunter S. Thompson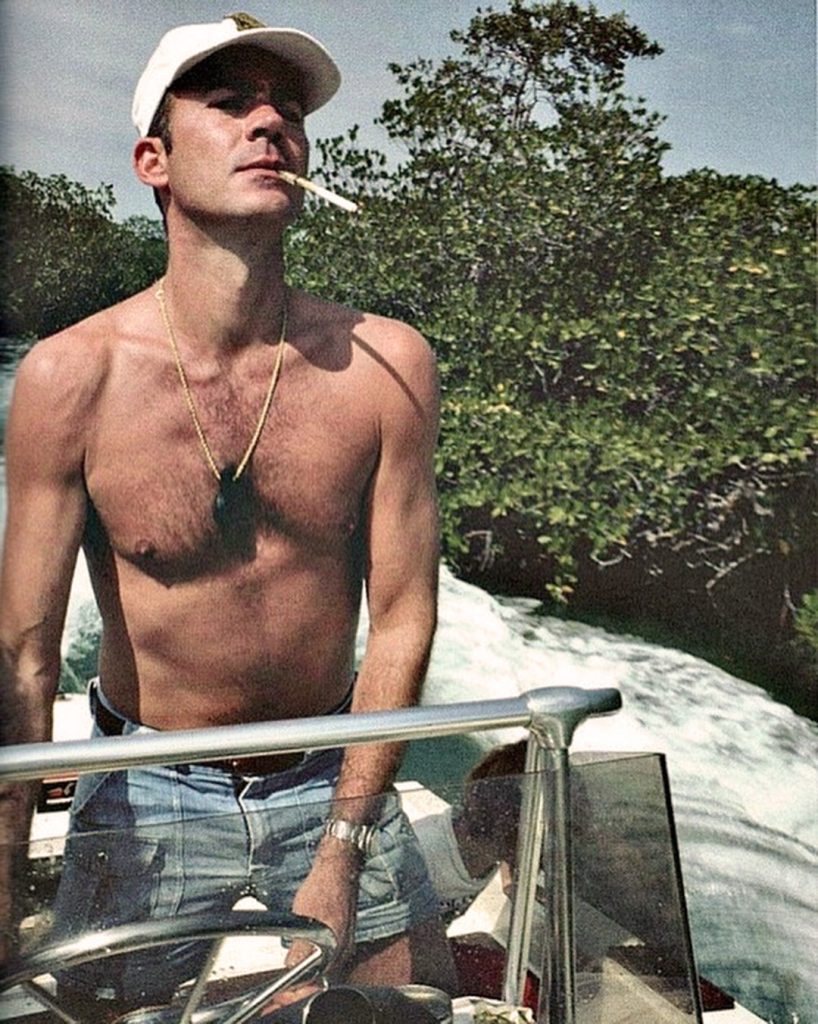 But we knew where to look.  We had been shown a way, a different way to live by our parents and their friends and the various Key West characters who came as they were to the beaches and the bars of our town. We lived our lives like a song that grew from our island experiences and we developed our own code: by God first things first get the ice on the beer; the beer must always be cold.  Tell the best story.  Learn to cook, play an instrument, and entertain. Keep the right tire on the white line.  Never approach a dock faster than you're willing to hit it. Don't let the sun burn your dick, because then you can't use it. Do no harm. Have fun! Ladies first. Don't be a rat. Be cool. Don't get caught. Pirates aren't bad, they're just pirates. Don't get stupid drunk.  Don't be the first or last person at the party unless it's your party. Everything in moderation.
Somewhere between Hunter and Jimmy, Hemingway and Captain Morgan, we forged our own identities, summoned enormous will power, and became men of our own making.
Luck & Gratitude
For the past hundred years, most of the world has wanted to live in the United States.  And everyone in the U.S. wants to live in Key West, and everyone in Key West wants to hangout on the water at Louie's.  Even as kids we understood this to be true, and we are grateful for our very good luck to have been born in the right place in space and time.  
Luck has always been the most important fortune to obtain.  We've all been very lucky, including Louie's Backyard – the place and the myth – which continues to flourish with unending success under the leadership of the Tenney family and the creative talent of Chef Doug Shook.  We are approaching fifty years of Louie's Backyard and forty years under current management. I still have lunch at least once a month at Louie's – I heard Jimmy was there yesterday.  The food is delicious, the sunsets are gorgeous, the spirit of one human family is alive and well, and the Gonzo Kids still have a home base on the beach in Key West.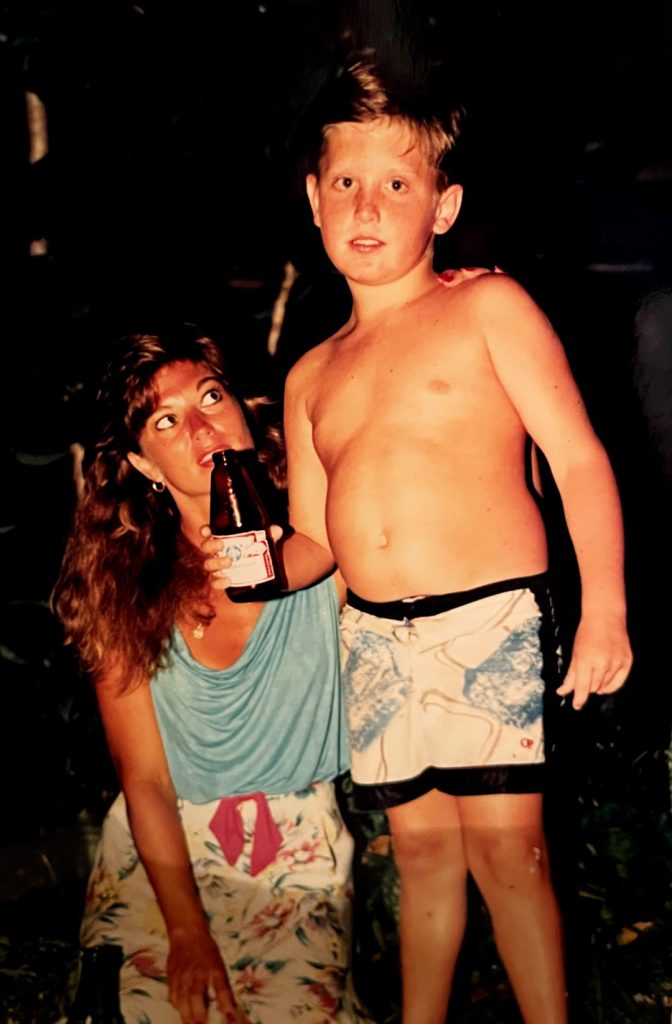 ---
What's your favorite Louie's Backyard story? Send to fun@ourkeywest.com and you might make it in the next issue.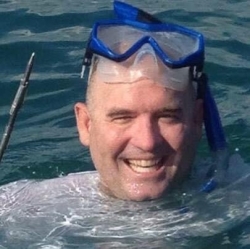 Latest posts by Rob Smith-Martin
(see all)
View All Articles